Details

August 10-12, 2022
Midwest Wholesale Distributors Conference
formerly the Tri-State Tobacco and Candy Distributors Convention
Marriott Griffin Gate - Lexington, Kentucky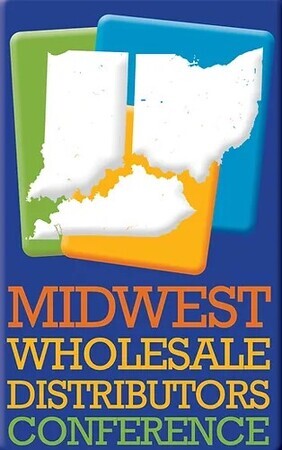 Mark your calendar for the
MIDWEST WHOLESALE DISTRIBUTORS CONFERENCE
August 10 - 12, 2022
Marriott Griffin Gate HotelLexington, Kentucky
Industry & Business Sessions
Tobacco Category Updates and Conversation with Industry Leaders
Candy and Snack Category Conversation with Hershey
"CEO's Candid Guide to Right People, Right Job, Right Fit to Scale the Business" with AJ Schaeffer, Culture Index
"Cybersecurity Threats, A Deeper Dive" with Bill Dotson, RockerRisk
Golf Tournament

•

Cigar Dinner and Bourbon Tasting


Bourbon Pull

•

State Association Meetings

•

Community Giving with Blessings in a Backpack




Connecting, Networking, Fun
One of the industry's favorite regional events for CEO's, buyers and top management of retail/c-store wholesalers who operate in Ohio, Indiana, Kentucky and the Midwest region. A must attend event for wholesalers, manufacturers, brokers and others engaged in the industry!
Previously the Tri-State Tobacco and Candy Distributors Convention
More Information and Registration
Presented by
Ohio Wholesale Marketers Association
Kentucky Wholesale Distributors Association
Indiana Wholesale Distributors Association
---
HOTEL RESERVATIONS / ROOM BLOCK UPDATE

The Midwest Wholesale Distributors Conference room block at the Marriott Griffin Gate is currently sold out.
The Embassy Suites Coldstream, located across the street from Griffin Gate, has a limited number of rooms available to our conference group at a rate of $149/night.
The Embassy Suites Group Code is KWD
[select your dates, click "Special Rates" box and type KWD into the "Group Code" box]
Reserve your Room at the Embassy Suites Coldstream
In addition to the Embassy Suites, the following properties also have rooms available at this time. Both are less than 2 miles from the conference hotel. Please note the conference does not have a room block at either of these properties.
Courtyard by Marriott Lexington North
---
GARRY ADAMS MEMORIAL AWARD
From the 1998 Tri-State Convention welcome ...
"What started a few years ago as an idea to explore has finally evolved into a
tri-state partnership of which we can all be proud."
Garry Adams, 1998 Tri-State Convention Chairman
President, Dittman-Adams Company

The joint convention of the industry associations from Ohio, Indiana and Kentucky was the vision of the leadership of the three states, with the first Tri-State Tobacco and Candy Distributors Convention held in 1998. Garry Adams was actively engaged in the associations of all three states and was part of the team that took the Tri-State Convention, now the Midwest Wholesale Distributors Conference, from a vision to reality. He never stopped believing in the opportunities that the future holds for the convention, the tobacco industry and the c-store distribution channel.
Garry passed away in 2010 and the annual Garry Adams Memorial Award was created with the encouragement and support of many of Garry's friends and colleagues from all levels of the industry to recognize an individual who shares some of Garry's strongest and most admirable traits …
Industry Involvement • Political Involvement • Community/Charitable Involvement
The Garry Adams Memorial Award will be presented on the evening of Thursday, August 11th during the Midwest Wholesale Distributors Conference Cigar Dinner.
Nominations will be accepted until July 31st and will be reviewed by a panel of Midwest Conference representatives.
ELIGIBILITY
Any employee of a distributor member of the state associations represented in the Midwest Wholesale Distributors Conference, and any employee of a manufacturer or broker in the industry who exhibits the traits of Industry Involvement, Political Involvement and Community/Charitable Involvement.
Nomination Form: pdf Nomination Form: online
PAST RECIPIENTS
| | |
| --- | --- |
| 2010 Charlie Casper ι Hardec's ι Kentucky | 2016 David Tritsch ι Columbus Candy & Tobacco ι Ohio |
| 2011 Albert Guarnieri, III ι Albert Guarnieri & Co ι Ohio | 2017 Kent Mills ι ITG Brands LLC ι Indiana |
| 2012 Rick Gummer ι Gummer Wholesale ι Ohio | 2018 Jerry Ray ι Modern Distributors ι Kentucky |
| 2013 Pat Carrico ι Richmond Master Distributors ι Indiana | 2019 Jim Perry ι Xcaliber International ι Ohio |
| 2014 Bob Weimuth ι Weimuth & Son Co ι Indiana | 2021 Brent Shay ι Eby-Brown Company ι Indiana |
| 2015 Steve Kottak ι RJ Reynolds ι North Carolina | |
---
CIGAR DINNER and BOURBON PULL
This year's conference Cigar Dinner will feature a bourbon tasting and a Bourbon Pull. What is a Bourbon Pull? It's a chance for you to win a great bottle for your bar or to gift! Every bottle will have a number, and guests will have the opportunity to buy chances to pull numbers. The numbers on the bottles will be revealed at the end of the evening and you'll get the bottle that matches the number(s) you pulled!
Help us stock the Bourbon Pull bar with a donation of bourbon, or you can make a $$ donation and OWMA will buy the bottle[s] to donate in your name. $$ donations for OWMA to buy the bourbon on your behalf should be payable to OWMA and mailed to OWMA, 88. E Broad Street, Suite 1240, Columbus OH 43215. You can also use the payment portal on the OWMA website [login in with your user ID and password] to donate via credit card.
---
Midwest Wholesale Distributors Conference Community Giving
BLESSINGS IN A BACKPACK
The Midwest Wholesale Distributors Conference is partnering with Blessings in a Backpack Kentucky to supply items and assemble much needed food packs for their program. Our goal is to have enough product donations from our members to assemble 100 bags during the conference.
Blessings in a Backpack provides children in the Lexington area with nutritious, kid-friendly, ready-to-eat food items each weekend. Because they are unsure of children's home situation, Blessings in a Backpack provides items that require minimal preparation and avoid the use of kitchen appliances such as a can opener.
How can you help? Below is a list of the items for the food packs. If you can supply any of the items, please email michelle@ksae.com or midwestconf.org@gmail.com and let us know which item, how many of it you will supply, and if you will bring it to the Marriott Griffin Gate by 10am on Wednesday, August 10 or if you will ship or drop it off to the KWDA office by Friday, August 5. It's very important that you reach out to Michelle because she is coordinating and tracking donation quantities for each item on the list.
This is a great opportunity for OWMA members to support a community program, even if you aren't able to attend this year's Midwest Wholesale Distributors Conference [but we'd love for you to attend, too!].
Collected food must be packaged in a sealed container or pouch with ingredients listed. Please inspect all food or any dents or damage and ensure that expiration dates are within 30 days. Each weekend food bag will contain a minimum of 6 shelf-stable food items (see list below).
Entrees
Need 200
Breakfast
Need 200
Healthy Snacks
Need 200
Cheese Cup
Cereal Bowl/Box
Individual Cheez-Its
Meat Stick
Granola/Cereal Bar
Fruit Cup/Pouch
Pasta Bowl w/ pop-top lids
Shelf stable milk
Sunflower seeds
Soup w/ pop top lids
Shelf stable Yogurt
Raisin/Craisin packets
Juice Boxes [100% juice]
Individual Goldfish Crackers
Individual Animal Crackers
Individual Pretzels
Individual Popcorn
---
OWMA ANNUAL MEMBERSHIP MEETING
Thursday, August 11th ι 5:00pm
Updates and discussion about politics, policy and association programs, plus Trustee elections.
---
2021 Tri-State Review
2019 Tri-State Pictures
2018 Tri-State Pictures
2017 Tri-State Pictures
2016 Tri-State Pictures
Add to Calendar
aCLuDhaqizCaPxAftmqF167204
08/10/2022
08/12/2022
true
America/Detroit
Midwest Wholesale Distributors Conference
  Mark your calendar for the  MIDWEST WHOLESALE DISTRIBUTORS CONFERENCE August 10 - 12, 2022 Marriott Griffin Gate HotelLexington, Kentucky Industry & Business SessionsTobacco Category Updates and Conversation with Industry LeadersCandy and Snack Category Conversation with Hershey"CEO's Candid Guide to Right People, Right Job, Right Fit to Scale the Business" with AJ Schaeffer, Culture Index"Cybersecurity Threats, A Deeper Dive" with Bill Dotson, RockerRisk Golf Tournament  •  Cigar Dinner and Bourbon TastingBourbon Pull  •  State Association Meetings  •  Community Giving with Blessings in a BackpackConnecting, Networking, Fun  One of the industry's favorite regional events for CEO's, buyers and top management of retail/c-store wholesalers who operate in Ohio, Indiana, Kentucky and the Midwest region. A must attend event for wholesalers, manufacturers, brokers and others engaged in the industry!  Previously the Tri-State Tobacco and Candy Distributors Convention More Information and Registration Presented byOhio Wholesale Marketers AssociationKentucky Wholesale Distributors AssociationIndiana Wholesale Distributors Association HOTEL RESERVATIONS / ROOM BLOCK UPDATE The Midwest Wholesale Distributors Conference room block at the Marriott Griffin Gate is currently sold out. The Embassy Suites Coldstream, located across the street from Griffin Gate, has a limited number of rooms available to our conference group at a rate of $149/night. The Embassy Suites Group Code is KWD [select your dates, click "Special Rates" box and type KWD into the "Group Code" box] Reserve your Room at the Embassy Suites Coldstream In addition to the Embassy Suites, the following properties also have rooms available at this time.  Both are less than 2 miles from the conference hotel. Please note the conference does not have a room block at either of these properties. Courtyard by Marriott Lexington North Residence Inn Lexington North  GARRY ADAMS MEMORIAL AWARD From the 1998 Tri-State Convention welcome ..."What started a few years ago as an idea to explore has finally evolved into a tri-state partnership of which we can all be proud."Garry Adams, 1998 Tri-State Convention ChairmanPresident, Dittman-Adams Company The joint convention of the industry associations from Ohio, Indiana and Kentucky was the vision of the leadership of the three states, with the first Tri-State Tobacco and Candy Distributors Convention held in 1998. Garry Adams was actively engaged in the associations of all three states and was part of the team that took the Tri-State Convention, now the Midwest Wholesale Distributors Conference, from a vision to reality. He never stopped believing in the opportunities that the future holds for the convention, the tobacco industry and the c-store distribution channel. Garry passed away in 2010 and the annual Garry Adams Memorial Award was created with the encouragement and support of many of Garry's friends and colleagues from all levels of the industry to recognize an individual who shares some of Garry's strongest and most admirable traits …  Industry Involvement  •  Political Involvement  •  Community/Charitable Involvement The Garry Adams Memorial Award will be presented on the evening of Thursday, August 11th during the Midwest Wholesale Distributors Conference Cigar Dinner.  Nominations will be accepted until July 31st and will be reviewed by a panel of Midwest Conference representatives. ELIGIBILITY Any employee of a distributor member of the state associations represented in the Midwest Wholesale Distributors Conference, and any employee of a manufacturer or broker in the industry who exhibits the traits of Industry Involvement, Political Involvement and Community/Charitable Involvement.  Nomination Form: pdf                      Nomination Form: online PAST RECIPIENTS 2010  Charlie Casper ι Hardec's ι Kentucky 2016  David Tritsch ι Columbus Candy & Tobacco ι Ohio 2011  Albert Guarnieri, III ι Albert Guarnieri & Co ι Ohio 2017  Kent Mills ι ITG Brands LLC ι Indiana 2012  Rick Gummer ι Gummer Wholesale ι Ohio 2018  Jerry Ray ι Modern Distributors ι Kentucky 2013  Pat Carrico ι Richmond Master Distributors ι Indiana 2019  Jim Perry ι Xcaliber International ι Ohio 2014  Bob Weimuth ι Weimuth & Son Co ι Indiana 2021 Brent Shay ι Eby-Brown Company ι Indiana 2015  Steve Kottak ι RJ Reynolds ι North Carolina   CIGAR DINNER and BOURBON PULL This year's conference Cigar Dinner will feature a bourbon tasting and a Bourbon Pull.  What is a Bourbon Pull?  It's a chance for you to win a great bottle for your bar or to gift!  Every bottle will have a number, and guests will have the opportunity to buy chances to pull numbers.  The numbers on the bottles will be revealed at the end of the evening and you'll get the bottle that matches the number(s) you pulled!  Help us stock the Bourbon Pull bar with a donation of bourbon, or you can make a $$ donation and OWMA will buy the bottle[s] to donate in your name. $$ donations for OWMA to buy the bourbon on your behalf should be payable to OWMA and mailed to OWMA, 88. E Broad Street, Suite 1240, Columbus OH 43215. You can also use the payment portal on the OWMA website [login in with your user ID and password] to donate via credit card. Midwest Wholesale Distributors Conference Community GivingBLESSINGS IN A BACKPACK The Midwest Wholesale Distributors Conference is partnering with Blessings in a Backpack Kentucky to supply items and assemble much needed food packs for their program. Our goal is to have enough product donations from our members to assemble 100 bags during the conference. Blessings in a Backpack provides children in the Lexington area with nutritious, kid-friendly, ready-to-eat food items each weekend. Because they are unsure of children's home situation, Blessings in a Backpack provides items that require minimal preparation and avoid the use of kitchen appliances such as a can opener.  How can you help?  Below is a list of the items for the food packs. If you can supply any of the items, please email michelle@ksae.com or midwestconf.org@gmail.com and let us know which item, how many of it you will supply, and if you will bring it to the Marriott Griffin Gate by 10am on Wednesday, August 10 or if you will ship or drop it off to the KWDA office by Friday, August 5.  It's very important that you reach out to Michelle because she is coordinating and tracking donation quantities for each item on the list.  This is a great opportunity for OWMA members to support a community program, even if you aren't able to attend this year's Midwest Wholesale Distributors Conference [but we'd love for you to attend, too!]. Collected food must be packaged in a sealed container or pouch with ingredients listed. Please inspect all food or any dents or damage and ensure that expiration dates are within 30 days. Each weekend food bag will contain a minimum of 6 shelf-stable food items (see list below).   EntreesNeed 200 BreakfastNeed 200 Healthy SnacksNeed 200 Cheese Cup Cereal Bowl/Box Individual Cheez-Its Meat Stick Granola/Cereal Bar Fruit Cup/Pouch Pasta Bowl w/ pop-top lids Shelf stable milk Sunflower seeds Soup w/ pop top lids   Shelf stable Yogurt     Raisin/Craisin packets     Juice Boxes [100% juice]     Individual Goldfish Crackers     Individual Animal Crackers     Individual Pretzels     Individual Popcorn OWMA ANNUAL MEMBERSHIP MEETING Thursday, August 11th ι 5:00pm Updates and discussion about politics, policy and association programs, plus Trustee elections. 2021 Tri-State Review 2019 Tri-State Pictures 2018 Tri-State Pictures 2017 Tri-State Pictures 2016 Tri-State Pictures
Marriott Griffin Gate - Lexington, Kentucky
---