Details

August 11-13, 2021
Tri-State Tobacco and Candy Distributors Convention
Caesars Southern Indiana Hotel & Casino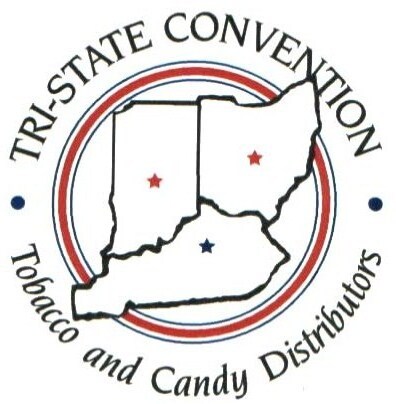 The Tri-State Tobacco and Candy Distributors Convention is one of the industry's favorite regional events for CEO's, buyers and top management of retail/c-store wholesalers who operate in Ohio, Indiana, Kentucky and the Midwest region. A must attend event for wholesalers, manufacturers, brokers and others engaged in the industry.
Networking • Golf Tournament • Cigar Dinner •

Industry and Business Sessions



Registration Form Hotel Reservations

---
Don't miss the Welcome News & Brews Session!
Wednesday, August 11th ι 3:00pm


Snacks + Drinks + News You Will Use


• Looking Around the Corner: Category and Industry Insights from Nik Modi of RBS Capital Markets •
• Protecting your Business from Cybercrime •
• Industry Issues Panel and Discussion •
Please note that Wednesday dinner is 'on your own' and Jack Binion's Steakhouse at Caesars is currently closed due to staffing and covid impacts. Please check out these downtown New Albany options:
---
OWMA Annual Membership Meeting
Thursday, August 12th ι 4:00pm


Updates and discussion about politics, policy and association programs.
---
Garry Adams Tri-State Memorial Award

Thursday, August 12th
The award will be presented at the Tri-State Cigar Dinner
The Garry Adams Tri-State Memorial Award was established in 2010 to recognize an individual for their commitment to the industry and community. Garry was President of the Dittman Adams Company, past officer and member of the OWMA Board, and part of the team that took the Tri-State Convention from a vision to reality. He never stopped believing in the opportunities that the future holds for the Tri-State Convention, the tobacco industry and the c-store distribution channel.
Any employee of a distributor member of the Tri-State Tobacco and Candy Distributor Convention states and any employee of a manufacturer or broker in the industry who exhibits the traits of industry, political and community/charitable involvement is eligible for nomination.
Nominations will be accepted until July 30th and will be reviewed by a panel of Tri-State representatives.
Award Nomination Form

•• AWARD RECIPIENTS ••
| | |
| --- | --- |
| 2010 Charlie Casper ι Hardec's ι Kentucky | 2015 Steve Kottak ι RJ Reynolds Tobacco Company ι North Carolina |
| 2011 Albert Guarnieri, III ι Albert Guarnieri & Co ι Ohio | 2016 David Tritsch ι Columbus Candy & Tobacco ι Ohio |
| 2012 Rick Gummer ι Gummer Wholesale ι Ohio | 2017 Kent Mills ι ITG Brands LLC ι Indiana |
| 2013 Pat Carrico ι Richmond Master Distributors ι Indiana | 2018 Jerry Ray ι Modern Distributors ι Kentucky |
| 2014 Bob Weimuth ι Weimuth & Son Co ι Indiana | 2019 Jim Perry ι Xcaliber International ι Ohio |
---

Add to Calendar
aCLuDhaqizCaPxAftmqF167204
08/11/2021
08/13/2021
true
America/New York
Tri-State Tobacco and Candy Distributors Convention
The Tri-State Tobacco and Candy Distributors Convention is one of the industry's favorite regional events for CEO's, buyers and top management of retail/c-store wholesalers who operate in Ohio, Indiana, Kentucky and the Midwest region. A must attend event for wholesalers, manufacturers, brokers and others engaged in the industry.  Networking  •  Golf Tournament  •  Cigar Dinner  •  Industry and Business Sessions Registration Form                 Hotel Reservations Don't miss the Welcome News & Brews Session!Wednesday, August 11th ι 3:00pmSnacks + Drinks + News You Will Use  • Looking Around the Corner: Category and Industry Insights from Nik Modi of RBS Capital Markets •• Protecting your Business from Cybercrime •• Industry Issues Panel and Discussion • Schedule at a Glance Please note that Wednesday dinner is 'on your own' and Jack Binion's Steakhouse at Caesars is currently closed due to staffing and covid impacts.  Please check out these downtown New Albany options:  The Exchange Pub & Kitchen Dragon Kings Daughter Brooklyn and the Butcher Floyd County Brewing Company Habana Blues Bella Roma Boomtown Kitchen     OWMA Annual Membership MeetingThursday, August 12th ι 4:00pm Updates and discussion about politics, policy and association programs. Garry Adams Tri-State Memorial AwardThursday, August 12th The award will be presented at the Tri-State Cigar Dinner The Garry Adams Tri-State Memorial Award was established in 2010 to recognize an individual for their commitment to the industry and community. Garry was President of the Dittman Adams Company, past officer and member of the OWMA Board, and part of the team that took the Tri-State Convention from a vision to reality. He never stopped believing in the opportunities that the future holds for the Tri-State Convention, the tobacco industry and the c-store distribution channel. Any employee of a distributor member of the Tri-State Tobacco and Candy Distributor Convention states and any employee of a manufacturer or broker in the industry who exhibits the traits of industry, political and community/charitable involvement is eligible for nomination. Nominations will be accepted until July 30th and will be reviewed by a panel of Tri-State representatives. Award Nomination Form•• AWARD RECIPIENTS •• 2010  Charlie Casper ι Hardec's ι Kentucky 2015  Steve Kottak ι RJ Reynolds Tobacco Company ι North Carolina 2011  Albert Guarnieri, III ι Albert Guarnieri & Co ι Ohio 2016  David Tritsch ι Columbus Candy & Tobacco ι Ohio 2012  Rick Gummer ι Gummer Wholesale ι Ohio 2017  Kent Mills ι ITG Brands LLC ι Indiana 2013  Pat Carrico ι Richmond Master Distributors ι Indiana 2018  Jerry Ray ι Modern Distributors ι Kentucky 2014  Bob Weimuth ι Weimuth & Son Co ι Indiana 2019  Jim Perry ι Xcaliber International ι Ohio More Information - Updates
Caesars Southern Indiana Hotel & Casino
---